CITYLINER CL 510
CL 510 – Powerful reliability.
The new CL510 with its powerful 1600W engine goes everywhere.
The LED lighting system, the automatic safety brake and the fully adjustable seat with suspensions, guarantee comfort and safety.
Powerful motor, 1600W.
LED lights.
Adjustable backrest tilt, the armrests, the seat depth height.
Rotated seat, 360 °
Very simple to use.
Steering lever for operation with the thumb and finger.
Mechanical unlocking of the brake with a spring.
Control panel with speed preset options.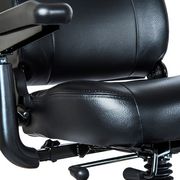 Adjustable seat with suspension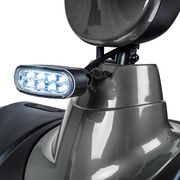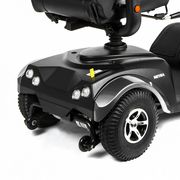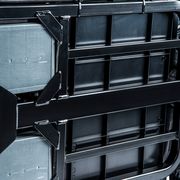 | | |
| --- | --- |
| Μήκος αμαξιδίου | 1200 mm |
| Πλάτος αμαξιδίου | 610 mm |
| Ρυθμιζόμενο ύψος καθίσματος | 420-480 mm |
| Βάθος καθίσματος | 410 mm |
| Πλάτος καθίσματος ρυθμιζόμενο | 540-670 mm |
| Ύψος πλάτης | 450 mm |
| Ύψος αμαξιδίου για μεταφορά (διπλωμένο τιμόνη, χωρίς κάθισμα) | 600 mm |
| Εμπρός διάμετρος τροχού | 260 mm |
| Πίσω διάμετρος τροχού | 260 mm |
| Απόσταση από το έδαφος | 100 mm |
| Ακτίνα περιστροφής | 1500 mm |
| Ισχύς κινητήρα (συνεχόμενη λειτουργία) | 400 W |
| Ισχύς κινητήρα (μέγιστη) | 1600 W |
| Μπαταρίες (2 τεμ.) | 50 Ah |
| Φορτιστής | 6 A |
| Αυτονομία (Σε ιδανικές συνθήκες) | 35 Km |
| Μέγιστη κλίση ανάβασης | 9° (16 %) |
| Βάρος αμαξιδίου | 93 Kg |
| Μέγιστο βάρος χρήστη | 165 Kg |
| Μέγιστο συνολικό βάρος (Αμαξίδιο & Χρήστης & Αποσκευές) | 260 Kg |
| Τελική ταχύτητα | 6 / 10 Kmh |